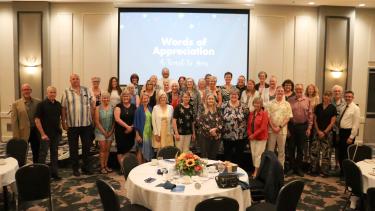 Abbotsford School District 2023 Retirees Celebrated
June 14, 2023
The Abbotsford School District celebrated the 2023 retirees with a retirement dinner held on June 7, 2023, at the Clarion Hotel. The event marked an opportunity to recognize the significant contributions and unwavering dedication of the retiring Superintendent, Operations Management, Administrators, Teachers, and Support staff who have devoted their careers to shaping young minds.
The Abbotsford School District is grateful to the retirees for their commitment each and every day, and for the difference they have made in the lives of our students. Their passion, expertise, and commitment to excellence have left a lasting mark.
As the retirees embark on the next chapter of their lives, the Abbotsford School District wishes them joy, fulfillment, and success in all their future endeavours. We extend our sincerest congratulations and deepest gratitude to all the 2023 retirees, recognizing their unwavering commitment to inspiring our students and their profound influence on generations of learners.
Superintendent of Schools
Dr. Kevin Godden
Operations Management
Jennifer Blair, Heather Mack, Linda Peters
Administrators
Phil Cookson, Bonnie Iftody, Kathy Fladager, Debbie Stapleton, Gary Toews
Teaching Staff
Geoff Blackwood, Todd Diakow, Karen Doolittle, Lynda Gibb, Bruce Glum, Ray Goerke, Ruth Hirowatari, James Klassen, Wendy Klassen, Margaret Mah, Shelley Maximitch-Johnston, Gillian Minchuk, Nadia Moore, Frank Muermann, Sue Nickel, Brenda Nowak, Sherry Olfert, Fiona O'Neill, Isabel Pinto, Rich Ralston, Dave Sampson, Jennifer Seymour, Joanne Snow, Moira Testa, Katarina Vlasic, Bonnie Voth, Sheldon Weinkauf, Rich Whitman, Gail Wightman, Bob Woolley
Support Staff
Tamara Bereti, Carol Block, Carol Bunbury, Kimberley Crawford, Priscilla Dalke, Rena Delwo, Lynn Des Roches, Leslie Dycke, Heidi Ens, Diana Hambley, Denise Hardman, Gale Hazelton, Jan Kipper, Theresa Kohnen, Clara Lillbeck, Deleine Perrie, Deborah Robinson-White, Gurmit Singh, Betty Smith, Aldy Soto, Patricia Trainor, Alison Vander Hoek, Valerie Warkentin