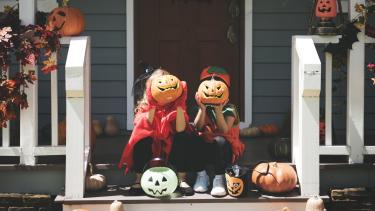 Halloween Safety: Trick-or-Treating Tips
October 29, 2023
With Halloween around the corner, the Abbotsford School District would like to share some trick-or-treating tips and remind families and students about the importance of safety during this fun-filled day on October 31st.
Costumes
When selecting costumes, it's vital to prioritize safety. Ensure that costumes are brightly coloured and visible to drivers. Adding reflective tape can increase visibility, making it safer for children when they are out and about in the evening. Costumes should fit well and allow for warm clothing underneath to protect against the often chilly and damp October weather. Avoid oversized costumes with dangling pieces that can pose tripping hazards or catch on objects. Masks can obstruct vision and breathing, so face paint or makeup is recommended. Always perform a patch test before applying face paint or makeup to check for sensitivities or allergies.
We remind students and staff that weapons (even fake ones) are not allowed at school as part of their costumes. Additionally, it's crucial to be aware of cultural or racial stereotypes and consider if your outfits may be offensive to others. Cultural appropriation refers to the unacknowledged or inappropriate adoption of customs, practices, ideas, or parts of a culture or identity by members of another culture.
Trick-or-Treating
The Abbotsford School District advises students and families to go trick-or-treating in groups, with adults accompanying children until they are old enough to go with friends. Stay in well-lit areas, and only visit homes with outdoor lights on. Never allow children to enter homes or cars. Carrying flashlights can make everyone more visible to motorists and other trick-or-treaters. When crossing the street, ensure children look both ways and only cross when no cars are coming. Use marked crosswalks and intersections and avoid crossing between parked cars. Before indulging in treats, parents should inspect them for choking hazards and unsafe items.
Decorations
Leave the pumpkin carving to adults, and have children draw a design on their pumpkin before carving. To eliminate fire hazards, it's recommended to use LED candles instead of real candles for jack-o'-lanterns. If real candles are used, keep them away from flammable objects and never leave them unattended.
Safety is a top priority this Halloween, so before participating in any celebrations and activities this year, visit the Government of Canada website for additional Halloween safety tips.
Have a safe and enjoyable Halloween, #AbbySchools!